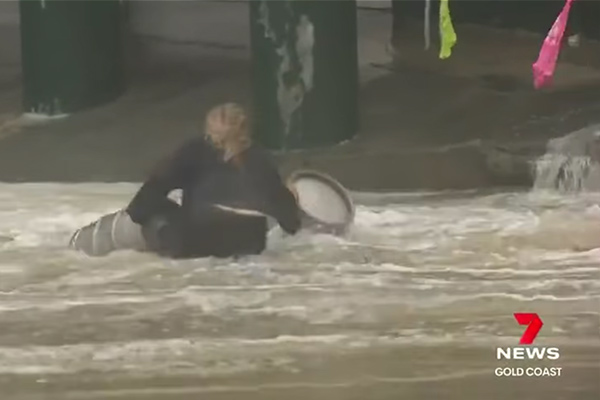 Wild weather hit parts of Queensland and New South Wales this week, with heavy rainfall and strong winds causing flooding, inundation, and mountains of seafoam.
Amongst the chaos during the storm surge, a new local heroine in the Gold Coast was discovered.
In footage captured by 7NEWS Gold Coast, a king tide hit Currumbin Beach Vikings Surf Life Saving Club causing the car park to be swallowed with bins and beer kegs being swept into the ocean.
This is when the new local hero sprinted to the rescue, diving into the water to snatch up the kegs then successfully walking out with both kegs in each hand.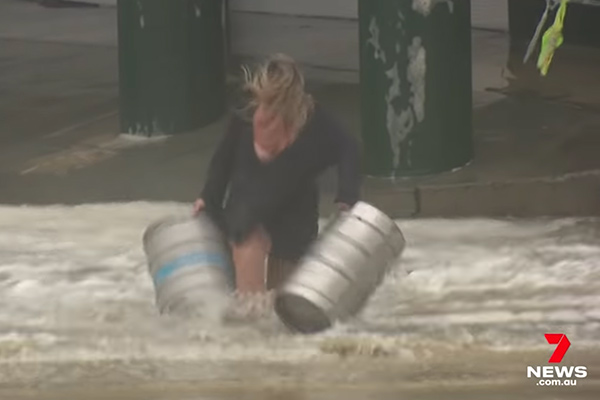 In a follow-up interview, the humble heroine simply says:
"There's nothing like the ocean aye? It's pretty spectacular."
The event was caused by an upper-level low-pressure system bringing tropical moisture into southeastern Queensland. During the week, there was more rainfall in Queensland than most major cities receive in a year with Upper Springbrook receiving 952 millimetres. The wild weather caused beaches to close due to the dangerous conditions.
🚫 BEACHES remain closed today due to dangerous conditions. Please stay out of the water and be mindful of debris that has washed ashore. ✅ WASTE & RECYCLING CENTRES are open as usual, with the exception of Reedy Creek, which is expected to open at noon (12pm) today.

— City of Gold Coast (@cityofgoldcoast) December 14, 2020
Images: (7NEWS Australia / Youtube)